The Hooley, Wednesday, April 19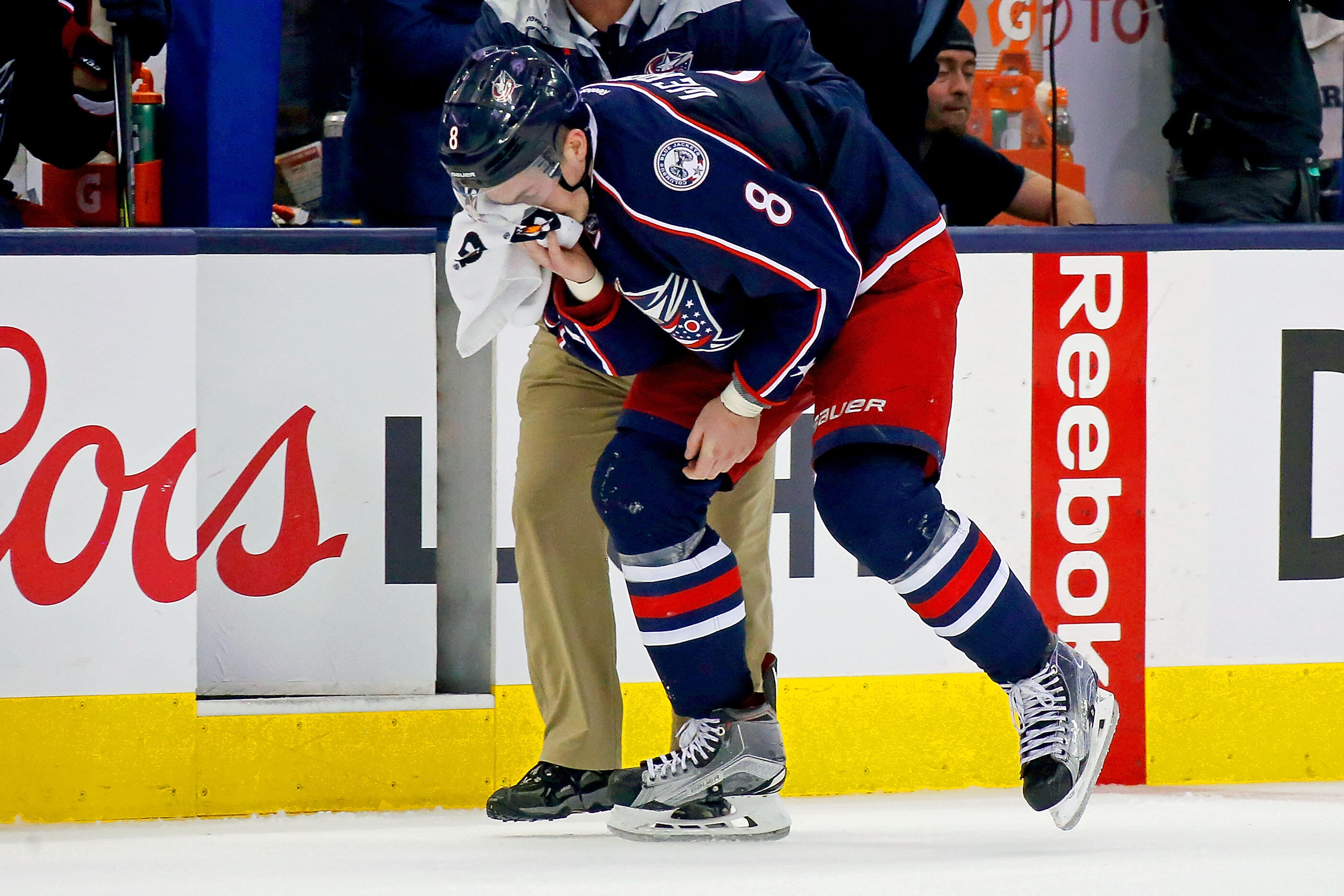 There's lots to love about the Blue Jackets' 5-4 victory over the Penguins in Game 4 of the Stanley Cup Playoffs on Tuesday at Nationwide.
Best of all, the win blunts the Pens' momentum and spares the CBJ the off-season narrative of a fall-flat finish to a franchise-best season.
That takeaway is still possible if the Jackets get run in Game 5 on Thursday night.
But they have the chance to force the series back to the Arena District for a Game 6 on Sunday. If they do that, the pressure mounts considerably on the Penguins and definitely changes how we view the Blue Jackets going forward.
And I'll get to look at this guy's cool Werenski T-shirt again.
Another encouraging aspect of the Game 4 win…the way Columbus' young guns came through. William Karlsson, Marcus Nutivaara, Josh Anderson, Gabriel Carlsson and Oliver Bjorkstrand were fantastic.
Young players can feed off the adrenaline and energy of a home crowd. The Blue Jackets will need older hands, like Nick Foligno, Brandon Dubinsky, Jack Johnson, David Savard and Boone Jenner to carry the mail on Thursday.
That's not to say all those experienced guys were substandard Game 4. They were fine, although I wouldn't advise Captain Nick to get another hooking penalty in the first minute on Thursday.
Most bothersome, still, remains the puzzling performance of Sergei Bobrovsky.
The Blue Jackets' best player all season, and the reason they are a 50-win, 108-point team, Bob remains an enigma in the playoffs. He's giving up too many rebounds, losing sight of the puck too often and thus giving his teammates real reason to wonder if Bobrovsky can limit the Pens to one goal or less.
That would allow the Jackets to steal a win or two in this Series, which is what I thought would have to happen for them to win in the first round and move on.
That's a longshot now, but Bob needs to come up big on Thursday or the Vezina Trophy he's likely to win for the second time will be a hollow consolation to the memory of the post-season that will haunt him throughout the summer.
Hate to be the bearer of bad news, but the Blue Jackets haven't won at PPG Paints Arena all season. They are 0-4 in the building where they have to win twice to win the series.
I'm happy for former Jackets coach Ken Hitchcock getting a second shot with the Dallas Stars. He has some interesting things to say in this story, regarding how to become a professional head coach.
Things I find interesting: this story purports to know how Hillary lost the election...C.B. Buckner has a reputation as one of MLB's worst umpires, so add this to his file...One of my regrets in life is that I was never able to get my father to Honolulu so he could stand on the deck of the Arizona and, as he said to me many times, "salute my fallen comrades." By the time I got the means, he was no longer able to make the trip because of heart issues. He's still ticking at age 90, having just embarked upon the start of his 68th year of marriage to my mom. This made me think of what I wish I could have done for him.

Bruce Hooley hosts morning drive from 6-9 a.m. Monday-Friday on 105.7 The Zone in a return to Columbus after five successful years in a similar role with ESPN Cleveland.He is also the host of, #Hooley, a sports opinion program airing 14 times per-week in 2.1 million homes throughout Ohio and in Northern Kentucky and Western Pennsylvania on Time Warner Cable Sports Channel.An award-winning newspaper reporter on Ohio State football for nearly two decades, Hooley began his radio career in 2005 at 97.1 The Fan in Columbus before taking over afternoon drive from 2011-2016 on ESPN 850 WKNR in Cleveland.Bruce has authored two books on Ohio State athletics and is the co-author of, "That's Why I'm Here: The Chris and Stefanie Spielman Story," which is in development as a major motion picture.Bruce and his wife, Sheri, are avid golfers who enjoy living in the country outside Columbus with their three daughters and array of dogs, cats, chickens and horses.